I often get questions about what type of running products to purchase. I generally shy away from making recommendations about running stuff unless I have personally tried them out and like them.  However, there are certainly a number of products that I use (some everyday) that I am happy to recommend on this page.  I will make a point to update this page whenever I use something related to running and like it.
Disclosure:  Please note that some of the links below are affiliate links.  What this means is that I may earn a commission, at no additional cost to you, if you click on a link and make a purchase.  I thank you for your support – it helps keep The Runner's Resource going.
Running Shoes
Unlike other sites, I just don't have the time to try every shoe in the market and give an in-depth review.  Additionally, I think it can often take weeks or months of running on a shoe to know if it is truly the right one.  Therefore, I'm only going to recommend the shoes that I currently use: the New Balance 990 and the New Balance 1400.
I have used motion control shoes from New Balance for over 20 years
.  Although the models keep changing, they generally give me plenty of support and cushion without being too bulky.  My current pair, the 940v2 has held up incredibly well, even after the more than 500 miles that I have put on them. They are high quality running shoes. One of the real positives of the 940v2 is that they have enough room for my orthotics.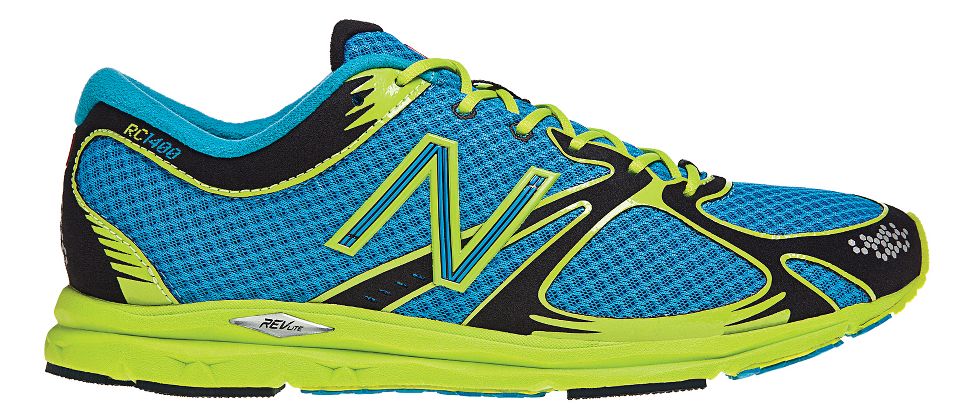 Many runners underestimate the importance of a good pair of racing flats for speed workouts (especially track intervals) and road racing.  A lightweight pair of racing flats helps make you faster by allowing you to get up on your toes easier.  There are a lot of good flats on the market, but my favorite is the New Balance 1400.
The New Balance 1400 is great because it still has decent support even though it is very lightweight.  Bottom line: It is excellent racing flat for racing and speed workouts.
In reality, you don't need a GPS watch, or any watch for that matter, to be able to run.  However, GPS watches are an awesome training tool.  There are plenty of great running GPS watches on the market today and, in my opinion, the best are made by Garmin.
I have had the Garmin Forerunner 310XT for a while now and really like it.  It has all the advanced features of the newer Garmin watches (i.e. upload data to the web based training log Garmin Connect, programmed workouts, etc).  Even better, due to the fact that it has been out for awhile, you can pick up the 310XT at a great price. The Garmin 230 and 235 looks much nicer, but I really don't see major improvements over the 310XT that justify the increased cost.
I have a big list of my favorite running books, but number one on my list is Daniels' Running Formula.  This book is written by legendary Coach Jack Daniels, and is packed with decides of running knowledge that Dr. Daniels has learned throughout his life.
The best part of the book are the training schedules with detailed recommended training paces based on current fitness levels.  When used correctly, the schedules give you amazing guidance about not only what to workout to run each day, but the precise pace for each workout based on your current running ability.
In the era of smartphones and gel packs, many runners rely on waist packs to carry things on the run.  I personally use a waist pack to carry my smartphone when I run home from work.  Due to the fact that I have a larger smartphone (Samsung Galaxy S3), my first priority is that the pack be big enough to carry it.
I've look at a lot of waist packs, including the interesting RooSport – which fastens to shorts by a magnet – but the best waist pack holder I've seen is the Nathan 5k Runner's Waist Pack. The pack has a front zipper compartment, which is a great place for gel packs, and a larger pocket which has plenty of room for my smartphone.  Best part? If fitted correctly, it does not ride up on my waist when I run.
My busy schedule often forces me to run when it is dark outside.  In order to help ensure safety when running at night or in the early morning, it is critical that runners wear a reflective vest.  Unfortunately, I have found that many reflective vests are bulky and bounce when I run in them.  The good news is that there is a solution: The Amphipod Xinglet.
The Xinglet consists of reflective straps that go over a runner's shoulders and around the waist.  With a little adjustment, the lightweight Xinglet fits snugly and has plenty of reflection.  It is really a great product for runners that must exercise when the sun is down.
In order to ensure success for speed workouts or races, it is important for runners to warm up properly.  One of the best ways to get the leg muscles warm and ready for a hard workout or race is to job in a good pair of warm up pants.   I have found some warm up pants to be either bulky or too warm (they cause me to sweat too much).
The one pair of warm up pants that do work for me, however, are the ones made by Sporthill. I was first introduced to Sporthill pants in college and have used them before every track workout and race ever since.  They may be a little expensive, but they are also incredibly durable.
Injury Prevention and Treatment
It's a fact of life as a runner. If you train hard, you will have tired and sore muscles.  One of the best ways to relieve muscle tightness and knots is to get a massage, but many of us don't have the time – or the money – to afford a massage every week.
In order to mimic the benefits of a massage, I have regularly used foam rollers on sore muscles.  Foam rollers are great for backs, hips, butt muscles, quads, hamstrings, shins – basically every running muscle.
When selecting a foam roller make sure to choose the one shown in the picture. For maximum benefit, you need a full 36″ round roller.
Just because a foam roller does not reach or properly massage a certain muscle does not mean that you are out of luck.  Another great way to relieve sore muscles is the Thera Cane Massager.  I've used the Thera Cane numerous times (especially on my back).
I really like the way it allows me to use pin point pressure on specific trigger points.  It's unique hook design lets me dig into a difficult area and help release knots.
Sprained ankles are one of the most annoying running injuries.  The thing that is especially maddening is that you never really know how long a sprained ankle will last.  Some clear up by the next day and others can take weeks or months to heal.  While I can't give you a quick solution to recover from a bad sprain, one thing that helped me was the H.E.M. Ankle Rehab program by Scott Malin.
In the program, Scott explains, through videos and printed materials, why common treatment remedies for sprained ankles (i.e. ice) or wrong, and actually do more harm than good.  His method got me back to running quicker than my past attempts using ice and I hope he can do the same for you.
I have terrible posture.  I blame this on the fact that I sit in front of a computer everyday at work.  My bad posture causes all kinds of problems for me, including hunched shoulders, back pain, and bad running form.
One product that a physical therapist recommended to me to help my posture is the Intelliskin undershirt.  The shirt is made of strong elastic material that tugs on the front shoulders in an effort to pull them back.  It is worn as an undershirt under clothing and fits tightly against the skin.
My understanding is that the goal of the Intelliskin is to reset the upper body's muscle memory to improve posture.  Does it work? I obviously can't say from a scientific standpoint, but my upper back and shoulders do feel better after wearing the shirt.